Section 1: Opening Prayer
Let us pray. Almighty and everlasting God, you have brought us in safety to this new day. Preserve us with your mighty power, that we may not fall into sin nor be overcome in adversity. In all we do, direct us to the fulfilling of your purpose, through Jesus Christ our Lord.
Amen.
Section 2: Story
Rest, Recharge, Redevelop, and Renew
God is all about renewal. Jesus came to earth to bring renewal to all creation, to make all things new once again, including us. Through our baptisms, the Holy Spirit continues the work of God in each of us to make us each new. But do we make space for that kind of renewal in our lives?
For personal growth and renewal, we need to make space for God to work in us through rest, recharging, and redeveloping our bodies and minds, our faith and practice, our selves and our communities. Scripture talks about this space as Sabbath.
Section 3: Message
Purposeful Sabbath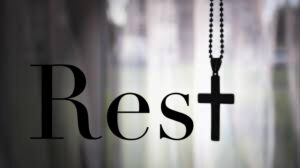 "Remember that you were a slave in Egypt, but the Lord your God brought you out of there with a strong hand and an outstretched arm. That's why the Lord your God commands you to keep the Sabbath day." These words,
from Deuteronomy 5:15, remind us that the thing that separates Sabbath from laziness is God's purpose for deliverance. The purpose of Sabbath is to allow us rest in God's goodness, to recharge us for God's mission, and to redevelop us in God's image. Sabbath provides opportunities for this three pronged renewal as we grow in the abundant life God desires for us. God meant us for freedom to live life in God's image. That's the direction of our growth. We're being renewed by God to look, love, and live more like Jesus. In the words of Kid President, You were made to be awesome.

You were made to be awesome. God made us all to be awesome! And just like Kid President says, we're all one the same team. Sabbath is not just meant for our personal renewal, but it renews us to help others as well. Other people. Animals. Plants. Schools. Families. Work. Sabbath is meant for our renewal as well as the renewal of others, so that we can work together to care for all of God's creation.
First, this means we all must rest. This may seem counterintuitive, since we're talking about growth and renewal. Just like our bodies need sleep in order to grow in health and energy for a new day, so we need to take time to rest not just our bodies but our entire lives in order to grow as people of faith. This rest is an acknowledgement that God is in control, and that even when we're not working, God is caring for creation.
More than just rest, we're called to recharge. If rest is sleep for our bodies, then recharging is plugging in our smartphones. All batteries eventually run out of juice, so we need to recharge our batteries. What encourages you our excites you about faith? What inspires you to work for the good in the world? What gives you hope? Sabbath is meant to spend time with these things, to recharge you for God's mission.
Alongside resting and recharging, Sabbath is meant to redevelop us. In other words, Sabbath should change us, shape us, transform us into renewed people. Just as God changed Israel from slaves in Egypt to a free nation of God's choosing, Sabbath is meant to liberate us from the sins that we face in our daily lives. More than just remind us that we're called to become like Christ, Sabbath works to make us more Christlike! That's the kind of growth and renewal we find in Sabbath practices like prayer and Scripture reading, like celebrating God's gifts of creativity and sharing relationships with our sisters and brothers in Christ.
Now, this isn't a legalistic application of Sabbath. This doesn't mean we must avoid anything that might seem like work, but instead, we must embody practices that symbolize our freedom, that help to make us come alive and look more like Christ. So, what might that look like?
Practicing Renewal
Are you an athlete or musician or a gamer or a cook? People who become excellent at these and any other tasks all require the same thing. Practice. Personal growth and renewal isn't something that just magically happens. Sabbath requires practice. How can you make Sabbath come alive in your life in a way that leads to growth and renewal?
Below you'll find a list of suggestions for practicing renewal in your life. Though these are common practices, there are many other ways that you might find ways to rest, recharge, and redevelop for renewal. Your assignment is this. Pick one of these practices to put in to practice every day. Yes, every day! Personal growth and renewal take not just once day of rest a week or one kind of focus on recharging, but a life long journey of becoming who God desires us to become. This means we need to constantly practice renewal.
Things To Do
Silence – Noise is normal in our everyday lives. Part of the rest we can find in Sabbath is an escape from that noise, where we need not talk nor listen to television or music. This reminds us also of the precious gift that good sounds can be – like words of encouragement or a beautiful song – in the midst of a noisy culture.
Meditation – Meditation is a kind of directed silence. It's a focused thinking, often based in Scripture or on wisdom of other people of faith.
Scripture Reading – This is pretty self explanatory, but be sure to push yourself. Read parts of the Bible you haven't read in a long time (or at all). Ask questions of your parents, pastor, or friends if something confuses you, bothers you, or excites you.
Reading Other Stuff – Other reading can be a great Sabbath practice, as it engages your mind with words and concepts in a different way than everyday conversation.
Creating Art – Some people love to make art, whether poetry or music or sculpture or drawing or painting or photography digital design or cooking or a myriad of other options. Just as God created the world, we become more like God as we embrace those creative impulses within us.
Appreciating Art – Others may not feel skilled at creating art or enjoy the creative process. This doesn't mean that art isn't helpful for the Sabbath. Many of us can appreciate the beauty and complexity of art, even if we can't compose it ourselves. This helps us to recognize God's handiwork in creating everything from the Grand Canyon to the human eye to the beauty of a sunset.
Exercise – Our bodies are gifts from God, works of art that are meant to be used. This doesn't mean a Sabbath is meant for an Ironman race, but our bodies scream to be used in ways that we don't normally use them. Go for a walk. Work in the yard. Take a bike ride. Give thanks for the air that God gives to your lungs, the strength you feel growing in your own body, and the new ways you find to stretch yourself.
Volunteering – Since our personal renewal is tied to the renewal of all creation, volunteering can help to offer great perspective for our own renewal. As we work on behalf of others, we're shaped in otherwise impossible ways.
Exploring Nature – Creation is constantly in the process of renewal. Caterpillars enter cocoons and emerge as butterflies. Trees seem to die in the fall, only to survive winter and once again blossom in the spring. As we hike, bike, swim, paddle, or skate through the world, we're constantly reminded that God is at work renewing us, through even the most imperceptible of ways.
Play – You were meant to be awesome at games, too. Sabbath is meant for fun and for enjoying our relationships with others. Genesis talks about God walking with Adam and Eve in the Garden of Eden, taking time just to spend with people God loves. This can happen on an evening stroll, playing four square, during a board game, and any other kind of fun that lifts up life for your self and others.
Worship – We meet God in baptism. We meet God in communion. We meet God in preaching. We meet God in the liturgy, in the reading of scriptures, the public prayers, the stained glass, the hymns, the architecture, the smiles of our sisters and brothers, and so much more. God is meeting us everywhere, inviting us to recharge through the power of the Holy Spirit and redevelop into the image of Jesus Christ. Worship is key to renewal.
Prayer – Prayer should appear not just as another option, but as an integral part of each of these options. Ask God to give you the rest you need and to recharge you with the energy to work for God's mission. Pray that you'll develop in ways that glorify God and uplift the lives of others. This can happen in our play and in our silence, in our creativity and in our exercise, in anything that helps us to grow and renew as people of God.
As you incorporate these or other practices for growth and renewal in your life, take a few notes about it. This can be in a paper journal, on a blog, or on your phone's digital notepad. Reflect on the following questions: What practice(s) did you choose? Which did you like enough to repeat? What kind of growth or renewal did you see? How did you find rest, recharge, and redevelopment? How will you incorporate this into your life more regularly?
Section 4: Learn and Engage
– What are 3 things you learned?
– What is 1 question you still have?
– What part of the lesson did you most identify with?
– What part of the lesson was hardest for you?
– Where have you seen God this week?
Section 5: Closing Prayer
Let us pray. Gracious God, we thank you for the work and witness of all your servants enrich our lives as they shared their gifts with us. Now bless and preserve us in us in our growth and renewal in your image. Day by day, guide us and give what is needed: friends to cheer the way, and a clear vision of that to which you are now calling us. By your Holy Spirit be present in our pilgrimage, that we may travel with the one who is the way, the truth, and the life, Jesus Christ our Lord.
Amen.
Opening and Closing Prayers from Sundays and Seasons.com. Copyright 2015 Augsburg Fortress. All rights reserved. Reprinted by permission under Augsburg Fortress Liturgies Annual License #25165.