Section 1: Opening Prayer
Eternal God, amid all the turmoil and changes of the world your love is steadfast and your strength never fails. In this time of danger and trouble, be to us a sure guardian and rock of defense. Guide the leaders of our nation with your wisdom, comfort those in distress, and grant us courage and hope to face the future; through Jesus Christ, our Savior and Lord. Amen.
Section 2: (In)conceivable!
Imagine you're a teenage girl. For some of you, this shouldn't be too tough! Don't worry though. This gets weird quick.
Next, imagine that an angel shows up, pretty much out of nowhere, and says, "Hey! I know you're a virgin. But guess what? God's chosen you to give birth to the savior of the world." That's enough to strike fear into the hearts of many of us. First, the simple biological impossibility of a human giving birth without sex involved is enough to turn the brain to mush. But there's this angel, as present as the pizza delivery driver before Monday Night Football, but with stranger news than an anchovy artichoke pie. Not only are you going to give birth, but you're pregnant with the savior of the world.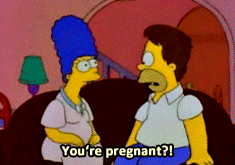 Here's the other thing: you're already engaged, so your fiance Joseph will have a few questions about this. You might imagine his reaction being something like Homer over there on the right. This news, that you've conceived a child, is inconceivable, and yet it's true.
That's where Mary, Jesus's mother, found herself at the Annunciation. Her world was turned upside down with this news beyond all imagination. So, what's this annunciation all about?
Section 3: Announcement + Consent
First, give a read to Luke 1:26-56. You'll see that the angel Michael comes and announces Mary's pregnancy. But you'll also notice something interesting, known as the Magnificat. That's just a Latin word for magnifies, for Mary's joyful response to this news begins with "My soul magnifies the Lord!" Mary's excited about this news, for God's brought salvation to her people Israel, and to all people on earth. In the Annunciation, God announces salvation.
In fact, that's what annunciation means: announcement. Though, that doesn't necessarily describe what happens here. The angel tells Mary of God's plan, but notice how it happens. The angel says Mary "will conceive and will bear a son…the Holy Spirit will come over you." It's all in future tense because it hasn't happened yet. The door remains open for another outcome, until Mary responds with joyful consent to God's plan: "I am the Lord's servant. Let it be with me just as you have said." The Annunciation isn't just about God's announcement to Mary. It's about Mary's willingness to be a part of God's plan. She opens herself to God's work through her in order to bring the gift she bears from her womb into all creation.
Reflect on the image to the left. What different ways do you see the artist telling the story of the Annunciation?
The whole Magnificat describes the trajectory of the Annunciation. Let's take a closer look at Mary's words:
46 Mary said,
"With all my heart I glorify the Lord!
47 In the depths of who I am I rejoice in God my savior.
48 He has looked with favor on the low status of his servant.
Look! From now on, everyone will consider me highly favored
49 because the mighty one has done great things for me.
Holy is his name.
50 He shows mercy to everyone,
from one generation to the next,
who honors him as God.
51 He has shown strength with his arm.
He has scattered those with arrogant thoughts and proud inclinations.
52 He has pulled the powerful down from their thrones
and lifted up the lowly.
53 He has filled the hungry with good things
and sent the rich away empty-handed.
54 He has come to the aid of his servant Israel,
remembering his mercy,
55 just as he promised to our ancestors,
to Abraham and to Abraham's descendants forever. Notice that, despite the massive change coming into her own life, Mary's response moves into praise for God's work through her. God plans to meet the needs of all who have need, and that's reason to rejoice, even if it's causing an earthquake for this teenager's plans. There will be incredibly difficulty as people shun her, assuming she was unfaithful to Joseph. There will be struggle with Joseph, for even though he accepts God's plan, it's still not the kind of father he planned to become. Nor was this Mary's intent! The world's turning upside down, and she sees it right side up because God's announced that new life is coming to those who feel like death is the only thing left for them.
Section 4: What Does This Mean?
Before you answer these questions, take a listen to this song, a musical setting of the Magnificat, composed by a young woman not all that different from Mary.
How would you respond if God had spoken to you this way?
What's the importance of consent?
What do God's plans inspire you to say and do?
You might assume that you'd be right along with Mary, saying yes to God's miraculous plans. But don't rush to that conclusion. Mary dealt with judgement, accusations, and social stigma because of her willingness to embrace God's plan. God's faithfulness through her made her appear to be an unfaithful person. That's not an easy road to follow. Yet, we may pray for God to strengthen us, and that Mary's example might encourage us to respond in faith when God invites us into challenging modes of discipleship.
We can't underplay the importance of consent here. This is an intimate thing that God plans to do, and so God opens to Mary the possibility of her conceiving and bearing a child. Yet, it's her intentional embrace of God's offer that leads to Jesus's birth. God doesn't force Mary to become Jesus's mother, but invites her into that holy place. That's a model for all of our relationships. No matter how good the ends seem, we should never force someone into something that they're not ready to accept themselves, whether family, friends, or someone we're dating.
Once she says yes, though, see how empowered Mary is! The Annunciation moves Mary to declare God's good works, to give birth to God in Christ, and to become a paragon of faithful living. We may not all write beautiful songs, and none of us will give birth to Jesus, but we can each respond to God's invitation with enthusiasm and seek to live abundant life in ways that help introduce people to Jesus. That's the power of Mary's example: by saying yes to God, we can bring Jesus into the realms in which we live, whether the realms of school, work, home, and anywhere else. Wherever in God's creation we spend our time, by saying yes to God, we can bring Jesus's abundant life more fully into the world.
Section 5: Closing Prayer
Gracious God, grant peace among nations. Cleanse from our own hearts the seeds of strife: greed and envy, harsh misunderstandings and ill will, fear and desire for revenge. Make us quick to welcome ventures in cooperation among the peoples of the world, so that there may be woven the fabric of a common good too strong to be torn by the evil hands of war. In the time of opportunity, make us be diligent; and in the time of peril, let not our courage fail; through Jesus Christ our Lord. Amen.
Opening and Closing Prayers adapted from Sundays and Seasons.com. Copyright 2017 Augsburg Fortress. All rights reserved. Reprinted by permission under Augsburg Fortress Liturgies Annual License #25165.