Section 1: Opening Prayer
God of mercy, compassion, and healing, you are more willing to forgive than we are to confess. The burden of guilt is heavy upon us. We thank you that you hear us when we pray, that you share our suffering and pain, and that you forgive our sins. Remind us that with you there is mercy, and make us to hear of joy and gladness. Show us your mercy, O Lord, and grant us your salvation; through Jesus Christ our Savior. Amen.
Section 2: How Many Times?!?!
In Matthew 18, we read, "Then Peter said to Jesus, 'Lord, how many times should I forgive my brother or sister who sins against me? Should I forgive as many as seven times?' Jesus said, 'Not just seven times, but rather as many as seventy-seven times.'" Jesus, in other words, believes forgiveness is centrally important in our lives. Why is that? What does this video tell you about forgiveness?
In short, forgiveness is powerful for us not just as people who forgive, but as those who've been forgiven.
Section 3: Forgiveness (and Confession)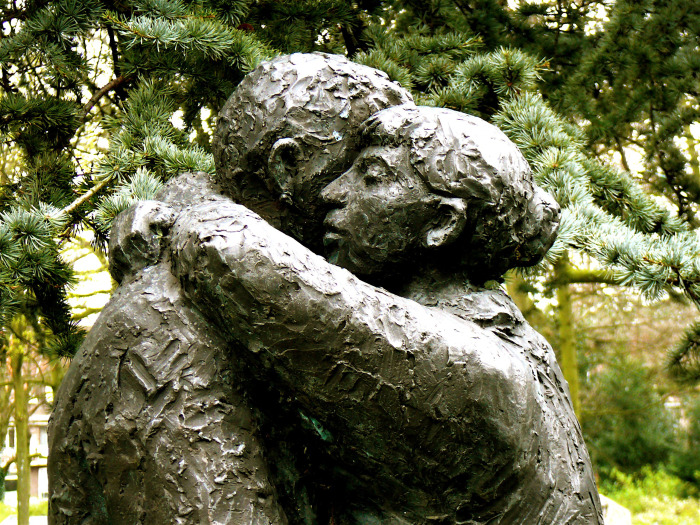 Forgiveness is central to the experience of our faith. Often we focus on beliefs in faith, asking questions like, "What do Christians believe?" Think instead about different questions. What does Jesus do? What do Christians do (or should they do)? Jesus, of course, forgives us our sins, and as his disciples, we too ought to forgive.
It's easy, of course, to talk about forgiveness. But experiencing forgiveness is harder, not just offering it, but receiving it as well.
This may seem counterintuitive at first. It's wonderful to hear and know that we're forgiven. Yet, to believe that, to live in forgiveness, requires an admission from ourselves that we're in need of forgiveness, that we've made a mistake, that we've faltered or failed in some way. Think about our liturgy. The first proclamation of forgiveness typically comes after we've together confessed that we've sinned and fallen short of God's glory.
And even as we receive forgiveness in the liturgy, we learn to forgive others. That's the power of the video above, not just that forgiveness is offered, but that forgiveness is learned. Much like any behavior, the more we practice receiving and offering forgiveness, the more natural it becomes in our walk of faith.
We also talk about forgiveness each week in the Lord's Prayer. As we pray, we tell God how to forgive us. Forgive us our sins (or trespasses), we say, as we forgive those who sin (or trespass) against us. Think about that. Our forgiveness from God is deeply connected to how we forgive others.
Reflecting on this, Martin Luther wrote, "We ask in this prayer that our heavenly Father would not regard our sins nor deny these petitions on their account, for we are worthy of nothing for which we ask, nor have we earned it. Instead we ask that God would give us all things by grace, for we daily sin much and indeed deserve only punishment. So, on the other hand, we, too, truly want to forgive heartily and to do good gladly to those who sin against us."
In other words, how we experience God's forgiveness ought to shape how we forgive others, and how we forgive others reflects what we think about our forgiveness from God. If we refuse to forgive, then perhaps we're struggling to believe God's forgiven us in the first place. More fundamentally, perhaps this means that we're struggling to forgive ourselves.
There's a sort of circular relationship here. We learn to forgive as we're forgiven, and as we forgive we learn that we are forgiven. In this process, we learn not just that we're forgivable, but that we're lovable. We're forgiven because we're beloved. God forgives because God loves, and as we learn to love like that, we learn to forgive as well.
Forgiveness is ultimately pointed at reconciliation, in recreating relationships of love, of mutual concern, of peace and joy. In Jesus, God forgives us to reconcile us with God and with all creation. Forgiveness allows us to come back into good relationships. In the same way, forgiveness of our human sisters and brothers should lead us to healthy relationships with them. In this case, forgiveness doesn't mean pretending the past didn't happen; instead, it means finding a way forward that doesn't let our past failures define our futures. Instead, forgiveness based in the example of God shapes our future so that we might find reconciliation, a beloved peace, with one another.
Section 4: How to Forgive
This video shows an extreme example of forgiveness, and one that takes years of practice, of forming forgiving habits, as well as learning the need of forgiveness that lies both with the offender and the offended. So, how do we get there? How can we become more excellent at forgiving?
First, think of someone you need to forgive. Then, think of someone who you need to confess to, of someone whose forgiveness you need to seek. You don't need to write this on the discussion board. This can remain in between you and God for now.
Here's the practical part. How do you do this? What do you need to say or do to make that forgiveness real in your lives? Take some time below to share some ideas on how to offer forgiveness, how to confess, and how to receive forgiveness.
If you've shouted at someone in anger, how might you seek forgiveness? If someone falsely accused you of lying, how might you forgive them? If you've taken something that didn't belong to you, how might to experience reconciliation with the rightful owner?
One time, a friend of mine named Bryce and I were volunteering to help with some property improvements at a school in a low income neighborhood. We got to talking about why we were spending our Saturday here instead of somewhere else, and he shared that this was part of his penance. He confessed a sin of destructiveness to public property, and part of his work on forgiveness was to do something constructive. Notice that Bryce didn't just say he was sorry, or admit he was wrong. He actively tried to change his behavior in order to reshape his life around the forgiveness he received.
This is the kind of beautiful forgiveness we may experience, not just mere words, but a holistic embrace of a new life. You can begin by seeking forgiveness when you know you need it. You can begin by opening yourself to the forgiveness God offers in the confession each week, or by following the example set by the Lord's Prayer and seeing our ability to forgive others in direct relation to how God forgives us.
At our core, remember that forgiveness is essential. We can't be who God calls us to be without forgiveness. We must receive God's forgiveness to become Christlike. We must learn to forgive in order to radiate the image of God. Forgiveness isn't optional to our faith. It's the beautiful, active center of Christ's life, death, and resurrection that inspires us to forgive even those who don't deserve forgiveness, just like you and me.
Section 5: Closing Prayer
We give thanks to you, heavenly Father, through Jesus Christ your dear Son, that you have graciously protected us today. We ask you to forgive us all our sins, where we have done wrong, and graciously to protect us tonight. Into your hands we commend ourselves: our bodies, our souls, and all that is ours. Let your holy angels be with us, so that the wicked foe may have no power over us. Amen.
Opening and Closing Prayers from Sundays and Seasons.com. Copyright 2016 Augsburg Fortress. All rights reserved. Reprinted by permission under Augsburg Fortress Liturgies Annual License #25165.